Florida International University has been the leader in the scientific advancements for canine detection since 1998, establishing the standards for canine & handler detection team training.
By developing the universal detection calibrant (UDC), a proprietary training tool that focuses on the volatile organic compound (VOC) of a targeted scent, the Global Forensic and Justice Center (GFJC) Detection Dog Program is where the science meets behavior training. From saving South Florida's avocado trees to finding illicit drugs at checkpoints, GFJC certifies dogs that are accurate, reliable, and able to be deployed in real-world settings.
Our team is innovating in early, low-cost scent detection through patented tools and techniques, with applications in criminal justice, environmental science, and public health.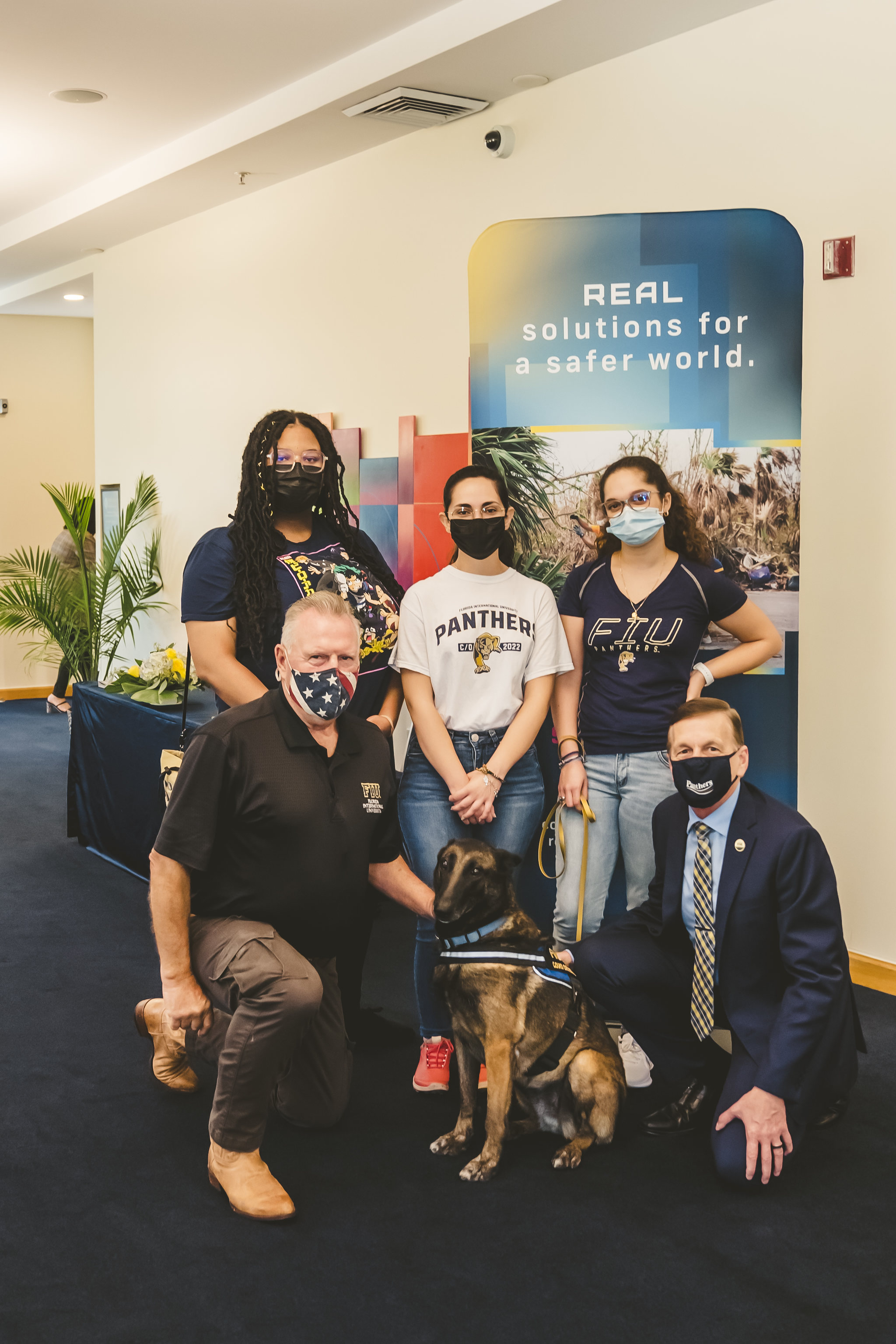 Certified detection canine, Cobra (center) with handler John Mills (left), FIU students, and Provost Dr. Ken Furton (right) 
Fast Facts
Canines' olfactory systems are roughly 10,000–100,000 times more sensitive than the human olfactory system.
Their noses are capable of detecting odor concentrations at 1–2 parts/trillion.
Canines can be trained to detect not only arson accelerants, but currency, drugs, explosives, human scent, cadavers, digital devices, epilepsy, illegally-imported agricultural products, mold, fungi, and viruses.
An experienced detector dog can be trained to a new scent within a month. An inexperienced dog needs approximately six months of training in the procedures of detection to be considered proficient to a particular scent.
The first statewide K-9 trainer and detection team certification program with independent scientific validation was started in 1998 as a joint project between the International Forensic Research Institute (IFRI) and the National Forensic Science Technology Center (now NFSTC@FIU).
We work in collaboration with the Florida Highway Patrol Contraband Interdiction Program and the Florida Department of Law Enforcement, in addition to other partners.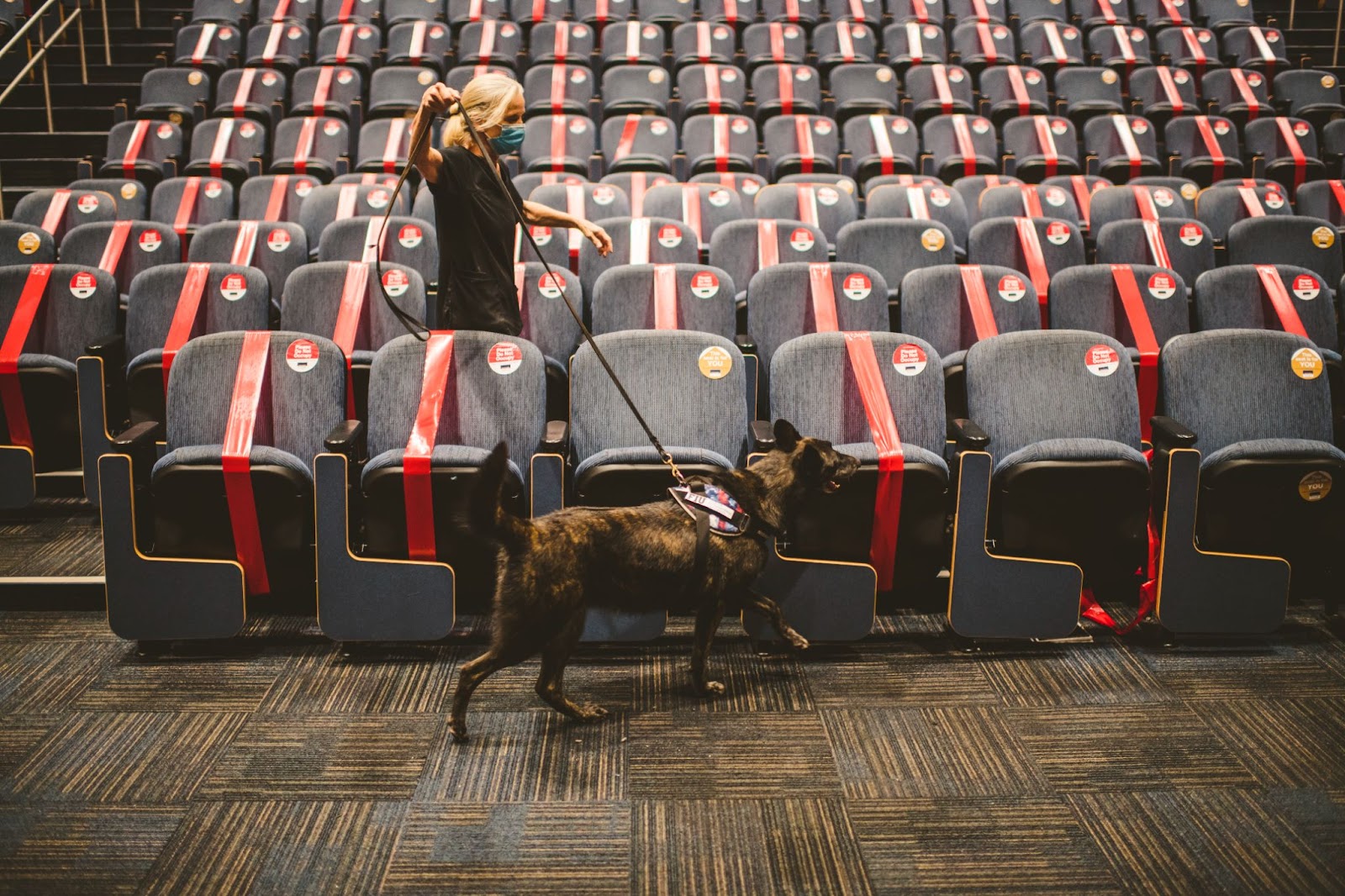 Trainer Kelley Hall and One Betta working to discover the target odor that has been hidden in classrooms and libraries.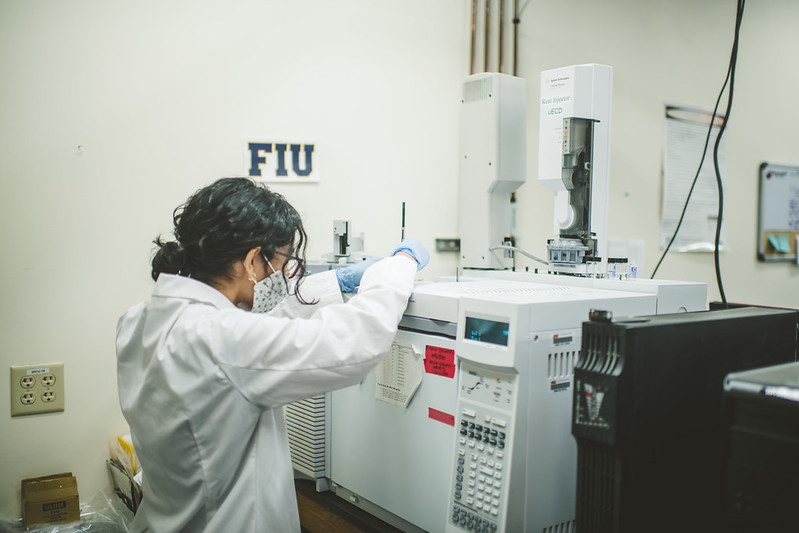 Research isolates the volatile organic compounds (VOC) unique to odors in FIU campus labs.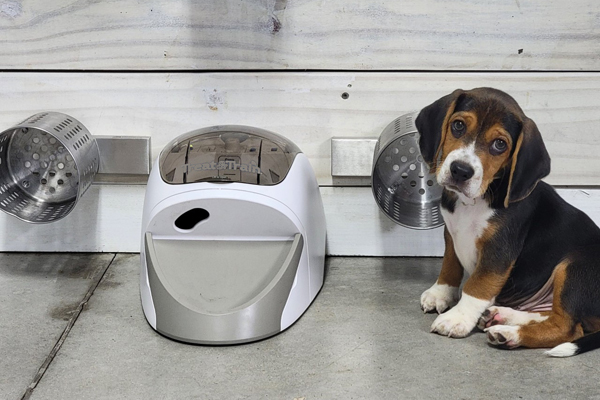 Training starts early for future detection canines.
Training Guidelines
The GFJC certification guidelines are a recommended set of scientific standards of practice for trainers and handlers, providing an additional layer of credentials to detection teams. To schedule a training session, contact WorkWithGFJC@fiu.edu.
Download the Training Program Guidelines (PDF)